The best DAWs in 2019. These are the best DAWs for sound design, music production & composition.
The best Digital Audio Workstation will be up to you... REALLY!
Everyone has their own workflow and preferences, so take these most popular DAWs and find out what one works best for you!
Don't worry if you're on Windows, Mac, or Linux, you'll find DAWs for all 3.
So, if you're serious about audio production and need a DAW, you'll want to know what options are out there before you go and spend your hard-earned money.
Disclaimer: The "best DAW" all comes down to what's best for you. So, even though these are all listed here, make sure to do your own research on the features each DAW has and even consider taking a look at comparisons between each.
Top DAWS
Image-Line FL Studio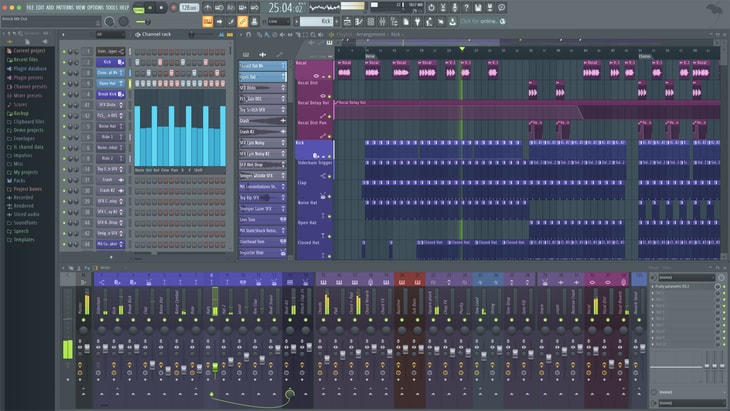 A long-standing champion for bedroom producers, Fl Studio is a DAW that is one of the easiest to use on this list. Just because it's easy, doesn't mean it lacks features either.
This software has a ton of advanced features and a robust list of stock plugins, all at a fair price.
A huge advantage with FL Studio is that you get free updates forever and you can even make music on your phone or tablet if you purchase the app.
What Plugin Formats does FL Studio Support?
Image-line's FL Studio supports both 32 and 64-bit VST and ReWire plugins.
If you are using Mac, you can also use AU plugins.
Learn More About FL Studio Here (Official Website)
Download FL Studio's Free Trial
---
Cockos Reaper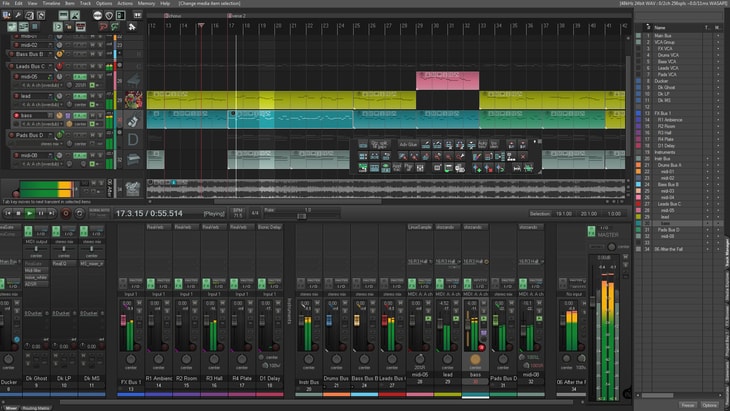 With its popularity among the video game audio community, Reaper is a DAW that is extremely affordable and has an incredible amount of power, regardless of its price.
This is another on this list with a notation editor and a well-done interface for the entire DAW.
What Plugin Formats does Cockos Reaper Support?
Cockos Reaper supports VST, AU, DX, and JS plugins.
Learn More About Cockos Reaper Here (Official Website)
---
Bitwig Studio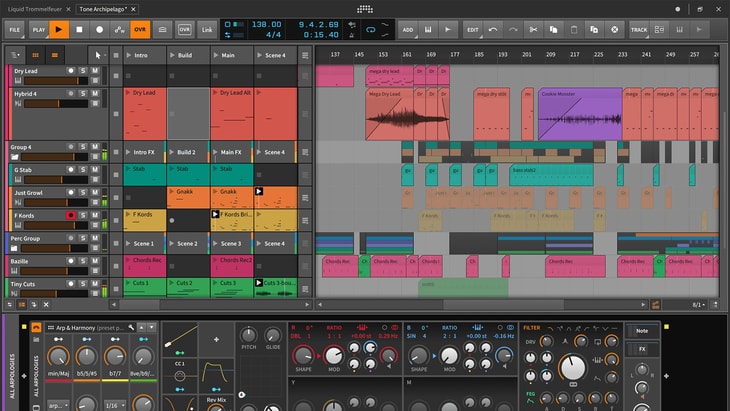 Bitwig has a pretty unique story, it was made by engineers that left Ableton to create a DAW that wasn't as heavy as Ableton Live and it even supports Ableton Link.
Although it is similar to Ableton in some ways, it's also vastly different in others. As a bonus, if you get a copy of this DAW they give you a year of free upgrades so you'll stay up to date.
What Plugin Formats does Bitwig Support?
Bitwig only supports VST plugins.
Learn More About Bitwig Studio Here (Official Website)
---
PreSonus Studio One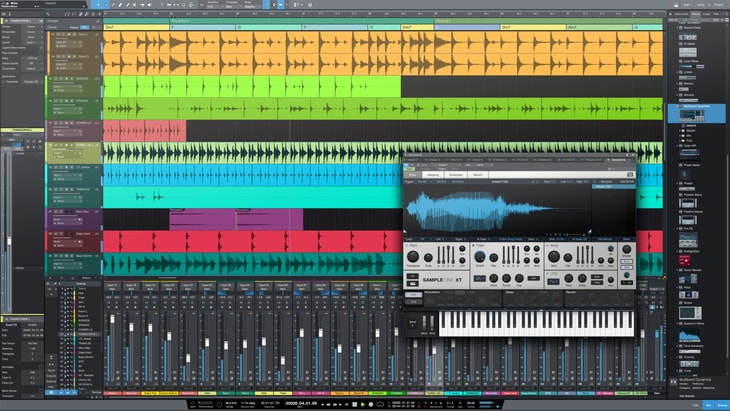 Studio One has an amazing cross-grade option for those who want to switch from another DAW.
Show them your receipt of a qualified DAW and if you're approved, you'll get the professional version at a pretty significant discount.
What Plugin Formats does Studio One Support?
PreSonus Studio One (S1) supports VST, AU, and ReWire plugins.
Learn More About Studio One Here (Official Website)
Download Studio One's Free Trial
---
Ableton Live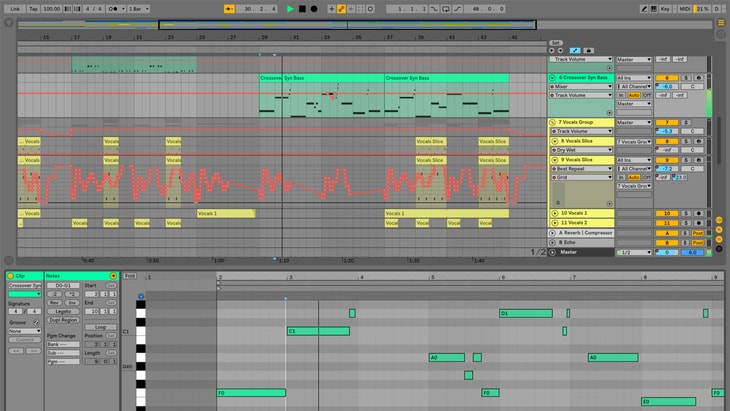 A popular choice for electronic music producers. Live is a highly customizable DAW that has a minimalistic User Interface.
This really helps keep things organized and distraction-free. This also handles live performances really well.
What Plugin Formats does Ableton Live Support?
Ableton Live supports VST and AU plugins in 64-bit only.
Learn More About Ableton Live Here (Official Website)
Download Ableton Live's Free Trial
---
Steinberg Cubase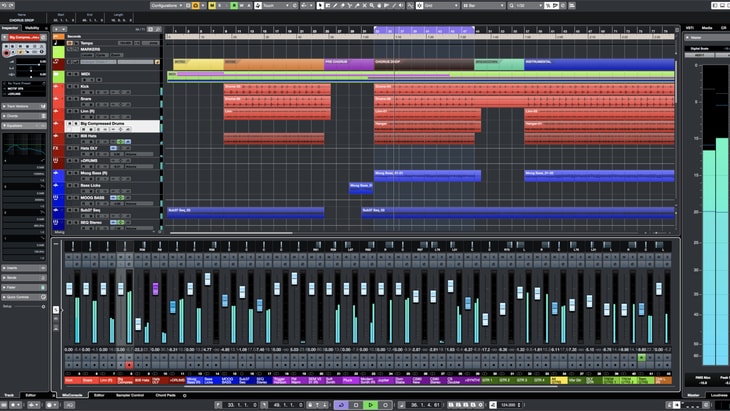 Cubase is a giant when it comes to game and film composers. There is a robust archive of tutorials clocking in at over 5 hours of content for most versions of the DAW and 30 minutes of tutorials from the basic version.
There's also a notation editor and a cloud-based collaboration feature included in this software.
What Plugin Formats does Cubase Support?
Steinberg Cubase supports VST plugins only.
Learn More About Cubase Here (Official Website)
---
Pro Tools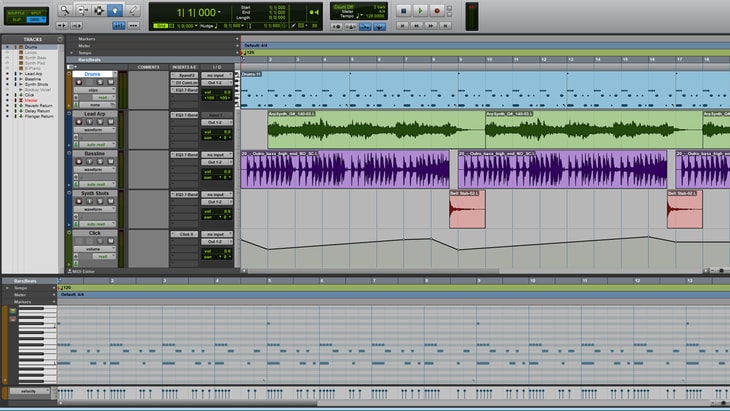 Avid Pro Tools is said to be the most popular DAW in professional environments. Essentially, the industry standard for recording studios.
Just because of its widespread use doesn't mean it's the one you should get, although it could help to learn the basics if you plan on working in big recording studios.
What Plugin Formats does Pro Tools Support?
Pro Tools only supports AAX plugins.
Learn More About Pro Tools Here (Official Website)
Download Pro Tools' Free Trial
---
Logic Pro X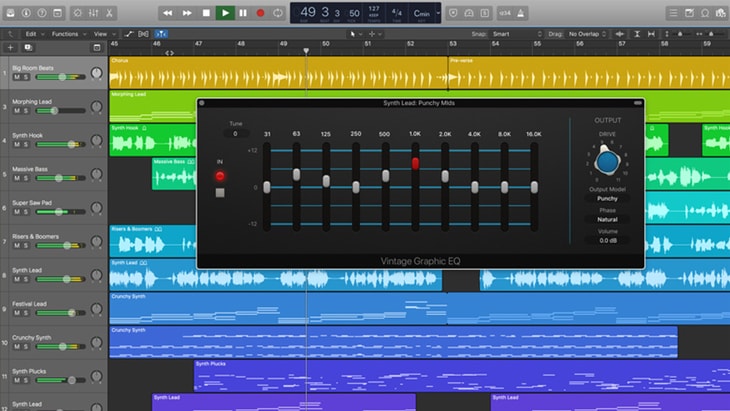 Logic Pro X by Apple is one of the simplest DAWs to use, but it has a lot of power. This music production software for Mac is the one-up of GarageBand.
So, if you're coming from that, you should be able to get the hang of Logic in no time as they're pretty much the same.
What Plugin Formats does Logic Pro X Support?
Logic Pro X supports AU plugins only.
Learn More About Logic Pro Here (Official Website)
Download Logic Pro's Free Trial (GarageBand)
---
Propellerhead Reason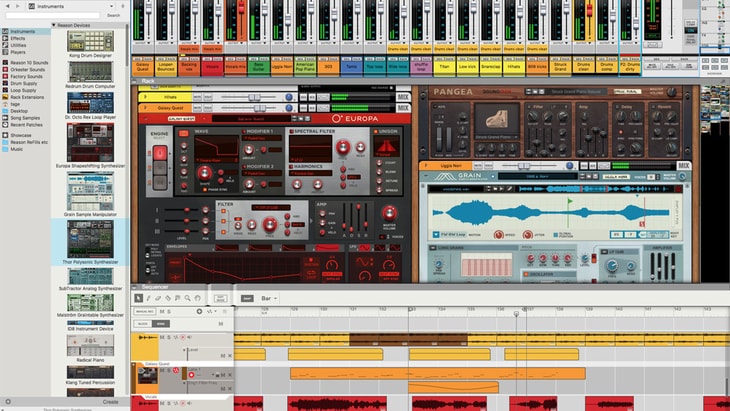 Reason takes synthesizers to another level with stock synths such as a shapeshifting, a Polysonic, an Analog and a really unique Graintable synth that combines Granular and wavetable synths all in one. And they don't stop there. There's plenty more instruments and effects that come with the DAW.
What Plugin Formats does Propellerhead Reason Support?
Propellerhead Reason supports VST only.
Learn More About Propellerhead Reason Here (Official Website)
---
Digital Performer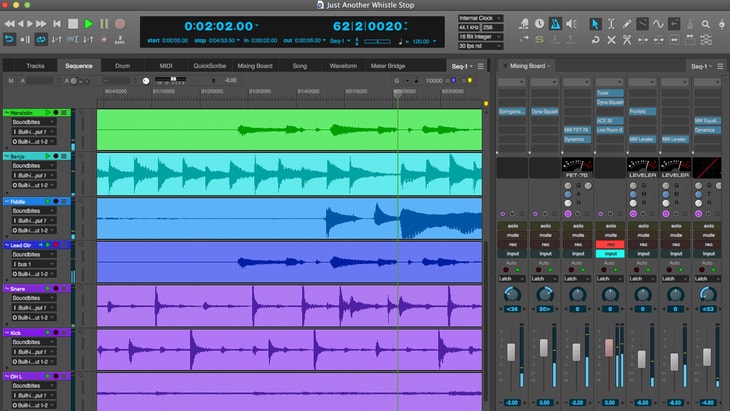 With DP you can customize its interface, color schemes, and more. Packed with some unique editors above the typical DAW, Digital Performer gives you access a notation and waveform editor.
Not only can you edit notation, but you can integrate lyrics and even transcribe it to actual sheet music, all within the DAW.
This DAW also comes with the ability to edit and automate the pitch of vocals, and, really any other audio with ease. Not to mention, the pitches can be converted to MIDI.
What Plugin Formats does Digital Performer Support?
Digital Performer supports VST, AU, and MAS plugins.
Learn More About Digital Performer Here (Official Website)
Download Digital Performer's Free Trial
Honorable Mentions
If none of the top 10 DAWs appealed to you, the next 3 might be what you're looking for, or at least to try out.
Renoise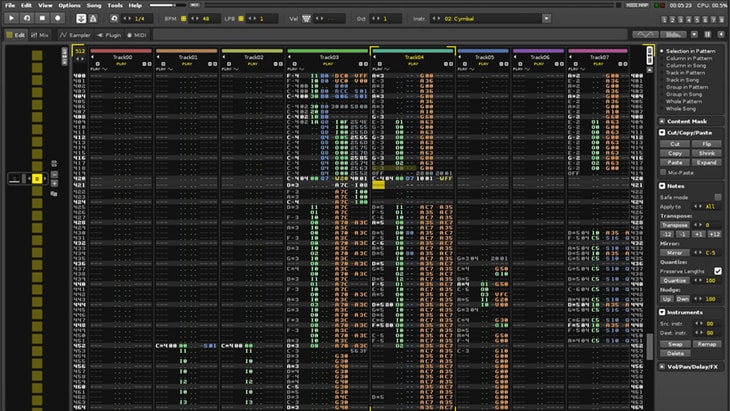 At a very affordable price ($75) and compatibility on Windows, Mac, and Linux, this DAW can be a good choice for anyone.
Renoise operates on a tracker interface instead of the typical playlist and piano roll. And, it's one of the best in its class.
So, if you're not interested in the retro way of music production then you might want to look elsewhere.
What Plugin Formats does Renoise Support?
Renoise supports VST, AU, LADSPA, and DSSI plugins.
Learn More About Renoise Here (Official Website)
---
Cakewalk Sonar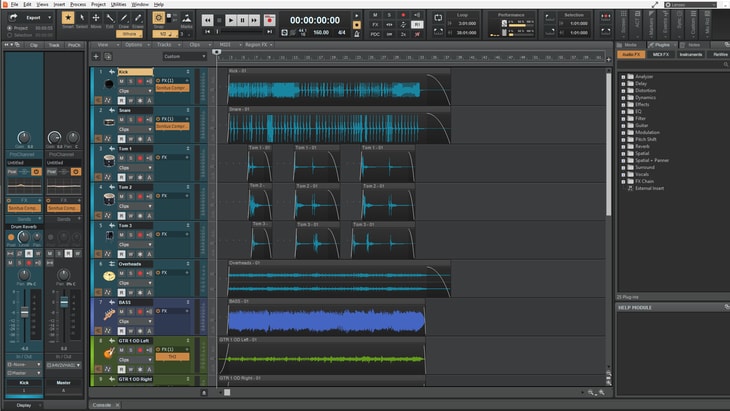 NOW FREE! This used to be one of the best paid DAWs out there. So, now that it's free, you should definitely check it out!
What Plugin Formats does Cakewalk Support?
Cakewalk by Bandlab supports VST plugins in both 64-bit and 32-bit bridged.
If that caught you by surprise, you might want to check out the rest of the best FREE DAWs in 2019.
You can find the download to cakewalk over there as well!
---
Mixcraft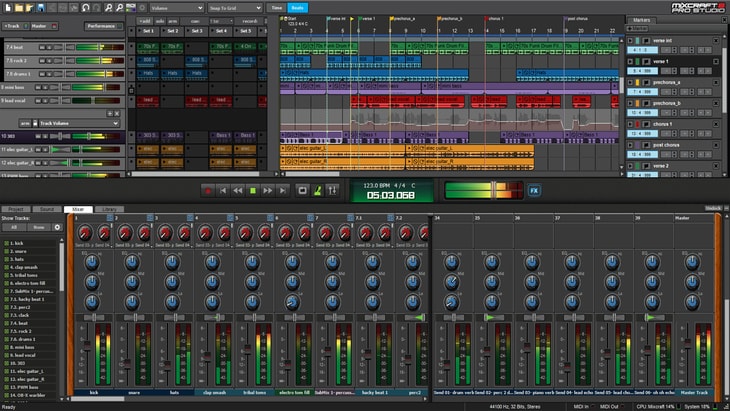 Mixcraft is a DAW with an affordable price, yet comes with some cool features such as a "sheet music" and video editor.
In the pro version, you get some additional plugins such as Melodyne Essentials and iZotope Mastering Essentials.
What Plugin Formats does Mixcraft Support?
Mixcraft supports VST, VSTi, and DirectX plugins.
Learn More About Mixcraft Here (Official Website)
Download Mixcraft's Free Trial
Pseudo DAWs (Semi-DAWs)
The following digital audio workstations are not full-featured and lack key components when it comes to everything you would need to make music.
Although they are pseudo or semi-DAWs, they are good for specific needs.
Adobe Audition
Audition holds up to the high quality of Adobes other products but there are a few drawbacks. This DAW is only available with a monthly subscription and doesn't support MIDI.
With that aside, it's really a good workstation and especially for voice talent.
What Plugin Formats does Adobe Audition Support?
Adobe Audition supports VST effect plugins only and does not have virtual instrument compatibility.
Learn More About Adobe Audition Here (Official Website)
Download Adobe Audition's Free Trial
---
Maschine Studio
Maschine is a DAW that comes with its hardware counterpart. Even though this audio workstation is included with the MIDI controller, the hardware can be used in other DAWs too!
Across the 4 models, the software remains the same.
What Plugin Formats does Maschine Studio Support?
Native Instruments Maschine supports VST plugins.
Learn More About Maschine Here (Official Website)
(No demo available.)
The Best DAWs for Specific Genres
Here are the best for each genre such as EDM or Sound Design and is completely based on opinion, even if there is some evidence supporting it.
There is nothing new here, just what you've seen in the above lists. However, this can help you weigh in your options when trying to decide the DAW to use.
What is the Best DAW for Sound Design?
Reaper may be the best for sound design and game audio as it is extremely customizable and has a large user-base in this niche, possibly making tutorials more available.
What is the Best DAW for Hip-Hop?
FL Studio as most producers making hip-hop and trap use this DAW for its simplicity and outstanding piano roll and easy to use step-sequencer.
Hip-hop and FL go back as far as this DAWs former days as Fruity Loops (hence the name FL).
Even if the majority of users in hip-hop use this DAW just because others do, it still makes it compelling as there is going to be a lot more tutorials on beats in this DAW compared to others.
What is the Best DAW for Dubstep?
What you will be looking for when it comes to dubstep is primarily the ease of managing automation clips and automating parameters.
Some promising options would be Ableton Live, FL Studio, and Bitwig Studio.
What is the Best DAW for Media Composers?
Cubase is used quite often in composing music for film, video, or other forms of media and is used by highly-successful artists such as Hans Zimmer and Tom Holkenborg (Junkie XL).
Why? Its playlist (arrangement timeline) is great and allows for highly complex orchestrations while keeping things simple.
What is the Best DAW for Professional Audio Industry Work?
Pro Tools is and has been the industry standard in the audio industry for a long time and is almost always used in pro studios.
The reason may come down to a few factors but one of them is the DAWs ability to integrate with hardware.
Another is the fact that it is so widely used - it makes things easy to move from studio to studio and still keep your effectiveness and productivity.
What is the Best Modern DAW for Chiptune or Retro Music?
Renoise is a great option if you want to stick to the traditional tracker-style workflow of DAWs from the late 70s to early 90s like the ones on Atari, Commodore, or GameBoy.
Another option would be LSDJ (Little Sound Dj) which is an emulation of the original cartridge for the GameBoy.
What is the Best DAW for Apple Computers?
Logic Pro X may be the best option for Apple as Garageband comes free with Mac and is has near-identical features and workflow, only being a cut back version of Logic Pro.
Software created by the same developer as the Operating System (OS) it is used on can make bugs and compatibility much less of an issue.
---
Now there are plenty of other DAWs in the game right now and many more to come. It's worth repeating, there isn't a "one size fits all" when it comes to Digital Audio Workstations. You really have to check them out and see if they are a good fit for you.
Although going with a more popular DAW does come with the benefit of a promising future of updates, active community, and there are more people to learn from and share ideas with.
If you enjoyed this list of the best DAW software in 2019, share it with someone that you think would like to see the list. Thanks for reading!