Best Free DAWs for music, sound design, and anything audio. These are the best free daws for Windows (pc), Mac & Linux in 2019!
There are even some free daws for mobile and online (browser).
A Digital Audio Workstation is an essential tool for the modern audio engineer or producer, so why not learn what's out there?
Chart of the best Free Digital Audio Workstations
| DAW Name | Plugin Support | OS Support |
| --- | --- | --- |
| Bosca Ceoil | N/A (built-in) | Windows, Mac, Linux, Online |
| LMMS | VST, SoundFont, LADSPA (64 & 32-bit) | Windows, Mac, Linux |
| Tracktion T7 | VST & AU (64 & 32-bit) | Windows, Mac, Linux |
| Ohm Studio | VST | Windows, Mac, Linux |
| SoundBridge | VST (64 & 32-bit) | Windows |
| Cakewalk | VST (64 & 32-bit) | Windows |
| Garageband | AU | Mac |
| Qtracktor | LADSPA, DSSI, NativeVSTi, LV2 | Linux |
| Rosegarden | LADSPA, DSSI, VSTi, VST, LV2 | Linux |
| Audiotool | N/A (built-in) | Online |
| Soundtrap | N/A(built-in) | Online |
| Audacity | VST, AU, LADSPA, Nyquist (64 & 32-bit) | Windows, Mac, Linux |
| MixPad | VST (64-bit) | Windows, Mac |
| WavePad | VST, DirectX (64-bit) | Windows, Mac |
Now, it's worth mentioning if you have a plugin that isn't supported by a DAW that you want to use it with, there are ways around it.
By using a plugin wrapper, you can load (for example, a VST plugin into a DAW that only supports AU). You can even turn 64-bit plugins into 32-bit, and vice-versa. It all depends on what the plugin wrapper can do.
Top FREE DAWs For any OS
Bosca Ceoil
Supported Plugin Formats: N/A
Bosca Ceoil is not only a downloadable DAW but it can also be used directly on your browser. This DAW is dedicated to chiptune and other low-bit styles of music, and it's got some pack to its punch.
It all comes as-is, so you won't be able to use any third party plugins or effects directly in the DAW, but it's not like you'll need any.
With its simplicity, this is a great tool for audio producers of any skill and even game developers who want to do their own music.
Download Bosca Ceoil For Free Here
LMMS
Supported Plugin Formats: VST / SoundFont / LADSPA
Now, if chiptune or bit-music is your thing and you want to also use your own plugins or simply want to be in more of a standard DAW environment, LMMS has got you covered.
It comes with quite a few plugins that emulate those nostalgic video game sounds and is available for Windows, Mac, and Linux. It's also said to be like FL Studio.
Tracktion T7
Supported Plugin Formats: VST / AU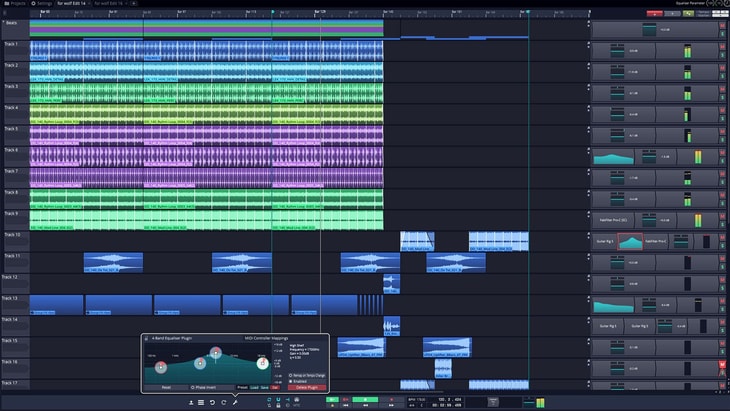 Available on the 3 major operating systems, T7 is fully-featured free DAW has a nice UI. With unlimited audio and MIDI tracks, you won't run into any roadblocks.
Download Tracktion T7 For Free Here
Ohm Studio
Supported Plugin Formats: VST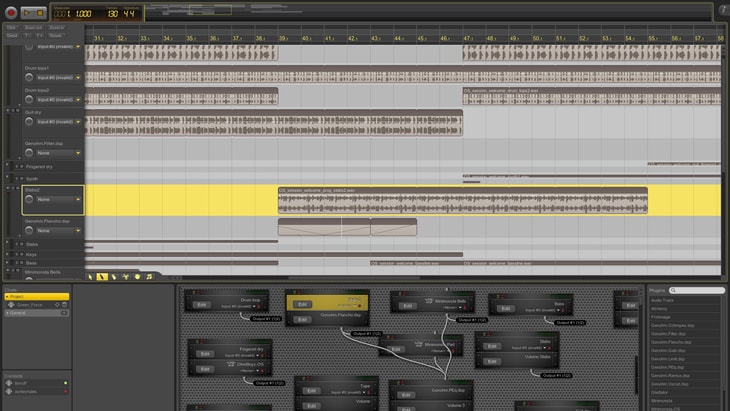 Ohm studio has an amazing feature that is really rare for a DAW to have. With Ohm studio, you can collaborate real-time with anyone, anywhere.
This means you can work on the same project at the same time with more than one person from anywhere in the world. You can chat in the DAW and see what they're doing as well.
Download Ohm Studio For Free Here
FREE DAWs For Windows
Soundbridge
Supported Plugin Formats: VST
SoundBridge (previously known as Lumit) has a very unique and easy to understand interface, which is great for newcomers in audio especially.
It comes with a few stock effects and a powerful drum machine called Ritmix.
Download SoundBridge For Free Here
Cakewalk
Supported Plugin Formats: VST
Cakewalk by Bandlab is a free DAW that used to be a popular paid one called Sonar (by Cakewalk). This gives the DAW some great premium-grade features that were made to cost money.
Download Cakewalk For Free Here
FREE DAWs For Mac
Garageband
Supported Plugin Formats: AU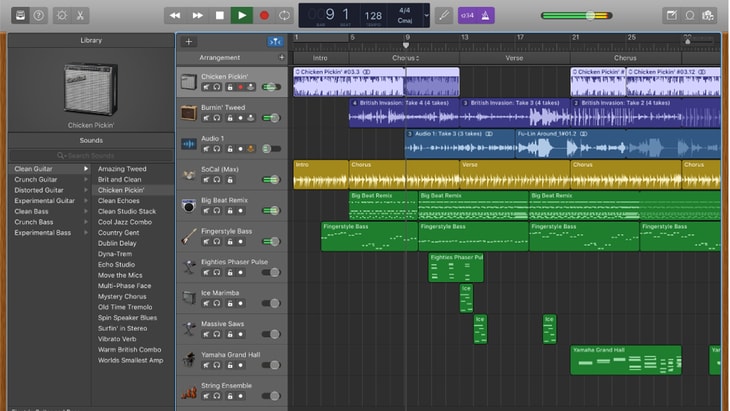 Sharing a near-identical User Interface with Apple's flagship DAW, Logic, you have a seamless upgrade path to one of the leading DAWs in the industry. Not to mention there is a Garageband app for IOS so you can make your music wherever you are.
Its simplicity and arsenal of sounds will have you ready to produce even at entry-level. There is an abundance of resources to learn from, all interactive, all integrated into the DAW.
Download Garageband For Free Here
FREE DAWs For Linux
Qtractor
Supported Plugin Formats: LADSPA / DSSI / NativeVSTi / LV2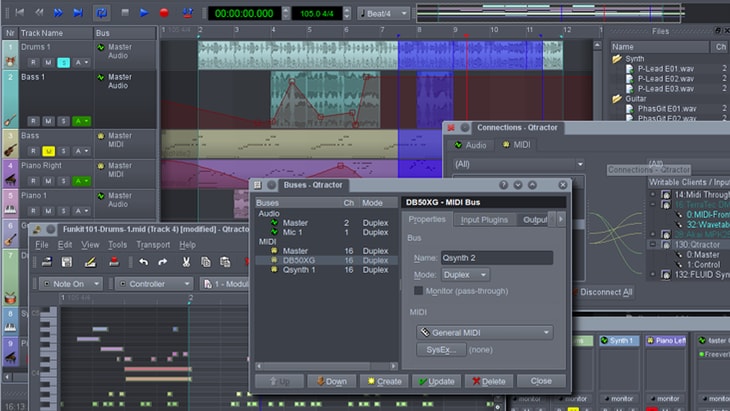 Qtracktor comes with many unlimited features and its open source, so its updates are virtually unlimited too.
This DAW is updated very frequently (~every few months) so you can look forward to more out of this as you develop your skill.
Download Qtractor For Free Here
Rosegarden
Supported Plugin Formats: LADSPA / DSSI / VSTi / VST / LV2
If you understand sheet music or want to learn more about it and have access to a Linux computer, Rosegarden is definitely worth experimenting with.
It comes with a notation editor, so you can actually write a song using sheet music, or simply use the piano roll, which is the MIDI editor.
Download Rosegarden For Free Here
FREE Online DAWs (Browser)
Audiotool
Supported Plugin Formats: N/A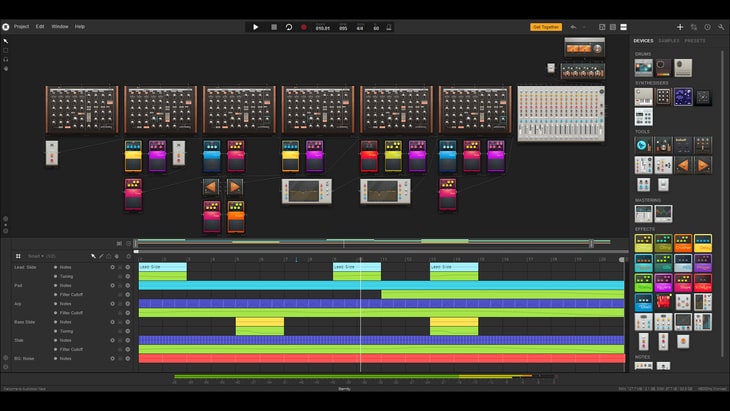 If you'd rather make your music online or on the go, Audiotool is the perfect DAW.
With everything being cloud-based, you can collaborate and access your projects much easier, so you can go from your computer, to your phone, then to your friend's computer.
After you've made your music, you can actually publish it through Audiotool's built-in publishing platform.
Use Audiotool For Free Here (Press app on the navbar to launch.)
Soundtrap
Supported Plugin Formats: N/A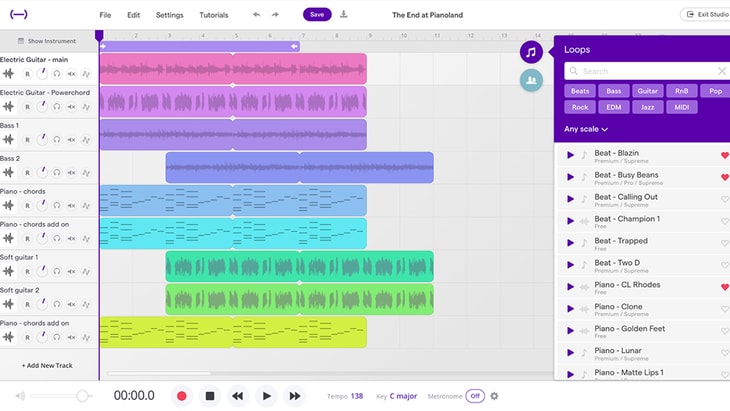 If you just can't sit still when you produce your music or like to work on-the-go, Soundtrap works on any device. Your phone, tablet, laptop or computer, you name it.
This is a good choice for those who just want to quickly get a song down without access to a professional DAW on a computer.
Audio Editors (Semi-DAWs)
Audacity
Supported Plugin Formats: VST / AU / LADSPA / Nyquist
This audio editor is a go-to for anyone involved with podcasts or voice acting. It comes with plenty of effects built in. The use of plugins with Audacity is limited to effects.
Currently, there is no support for instruments. However, this DAW doesn't come with the ability to edit MIDI and is focused on recording and audio editing.
Download Audacity For Free Here
MixPad
Supported Plugin Formats: VST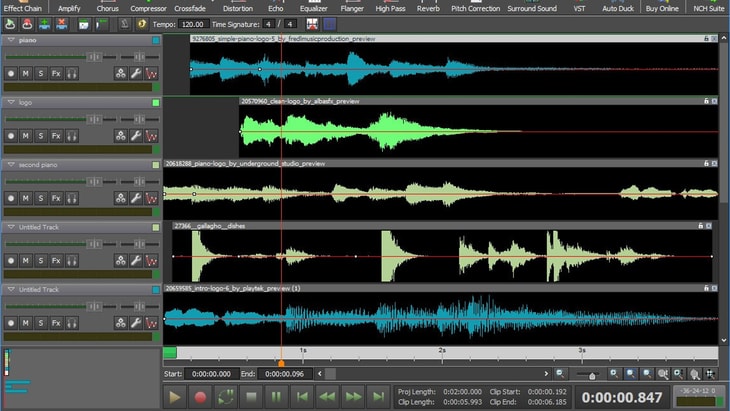 A simple free DAW that works on both Windows and Mac, this software can let you record multiple tracks at once. There is also a royalty-free sound library included with it.
In this, you can export files via many different formats or directly upload to SoundCloud, Dropbox, or Google Drive.
WavePad
Supported Plugin Formats: VST / DirectX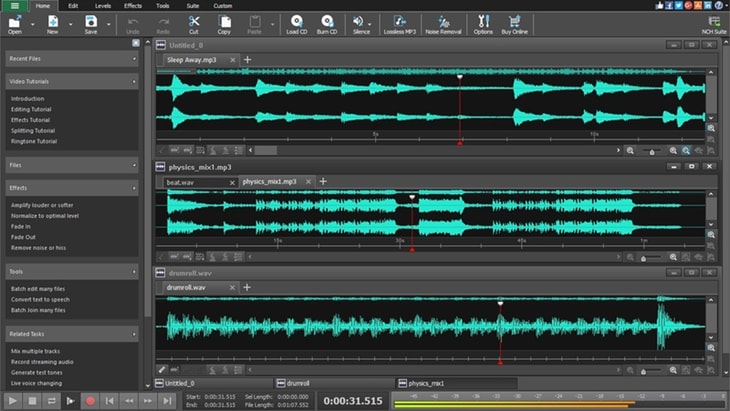 With a similar feel to Audacity, this audio editor comes with some simple to use features for audio production. Although there is no support for virtual instrument plugins for this Digital Audio Workstation, it's still a good way to edit and record live.
Download WavePad For Free Here
---
There you go, a list of amazing free DAWs that you can use to start (or continue) making music with.
No excuses, go to the library and use a computer there if you have to.
If you'd like to check out some options that cost money, you might enjoy The Best Paid DAWs.
I hope you found this list insightful, don't forget to share this article if you liked it. Thanks for reading!